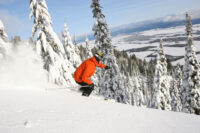 311 Village Dr, Tamarack, ID 83615
Tamarack resort is a four-season resort just a quick drive from Donnelly. Tamarack lifts turn 7 days a week from 9 am until 4 pm throughout the ski season and offers 1,020 skiable acres to skiers and snowboarders of all ages and ability levels.  During the summer, the resort is home to mountain biking, hiking, rafting, ziplines, and water sports on Lake Cascade.
With many lodging options available, Tamarack can accommodate any size group and offers everything from hotel rooms, estate homes, cozy cottages, plush chalets, and townhomes. Tamarack also offers a variety of dining options, including Clearwater Coffee Co., The Village Market, Seven Devils, and the Mile High Cantina.
Head to Tamarack any time of the year for an adventure (and views) you will never forget.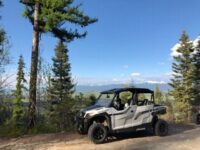 2445 West Mountain Rd, Donnelly, ID
Mountain Meadow Adventure Rentals' Donnelly location can be found at 2445 West Mountain Rd, on the way to Tamarack Ski Resort. Located on the NW corner of Lake Cascade and on the trailhead to hundreds of miles of forest trails, there is no shortage of places to go and beauty to behold. We deliver and pick up watercraft from the lake to make your vacation EASY. Park and ride location for all your dirt and snow fun.